Please sign in so that we can notify you about a reply
This beautiful handmade cuff bracelet features a hand-painted porcelain Ohm in shades of deep purple. The porcelain is coated in mother-of-pearl which brings a sparkle and depth to the bracelet bar and its white background reflects shades of pink, green and lavender. It is wire wrapped with craft wire and accented with Swarovski crystals, pearl beads and stainless steel beads. The adjustable cuff is stainless steel and approximately 7" around. The bracelet is light weight and durable.
We do our best to take pictures that reflect the actual color of the focal. Because of the mother of pearl coating the color reflected might be slightly different from the actual color of the piece. Another factor involved is the screen that is used to view the piece. If you have any questions regarding the color or piece, please contact us.
Broken & Renewed Glass Art is the embodiment of my journey into mixed media jewelry which began over 25 years ago when I started working with stained glass in Tucson, AZ.
After moving to St. Charles, MO, I was introduced to glass fusing. I love the dynamic way that color can change when heated in a kiln. The variety of color possibilities is amazing...talk about rainbows. Learning to wire wrap became my way to turn the cabochons (focal pieces) into pendants, bracelets, earrings, and other accessories. I enjoy working with hand-painted porcelain cabochons…which are both colorful and lightweight…along with fused glass, Silver Silk knitted cord, satin cord, along with a variety of beads, wire and findings.
Throughout the years, I have taken classes to learn different techniques including Kumihimo cord and bead work, a unique addition to my portfolio, together with a variety of new wire wrapping techniques. I continue to learn through classes and online sources drawing inspiration and encouragement from them and allowing me to continue my passion for creating unique pieces of wearable art.
I am affiliated with several art organizations who have helped me to stay grounded and broaden my relationships within the artist community.
• Self-Representing Artists in Jewelry Design (SRAJD) – Member for 10+ Years
• Best of Missouri Hands (BOMH) – Juried Member
• Greater St. Louis Art Association (GSLAA) - Member
• St. Charles County Arts Council - Member
• Crossroads Arts Council - Artist Member
When you visit the Greater St. Louis area, you can find my work at the following locations:
• Framations Art Gallery (St. Charles, MO)
• Lillian Yahn Gallery (O'Fallon, MO)
• Missouri's Trading Post (Hermann, MO)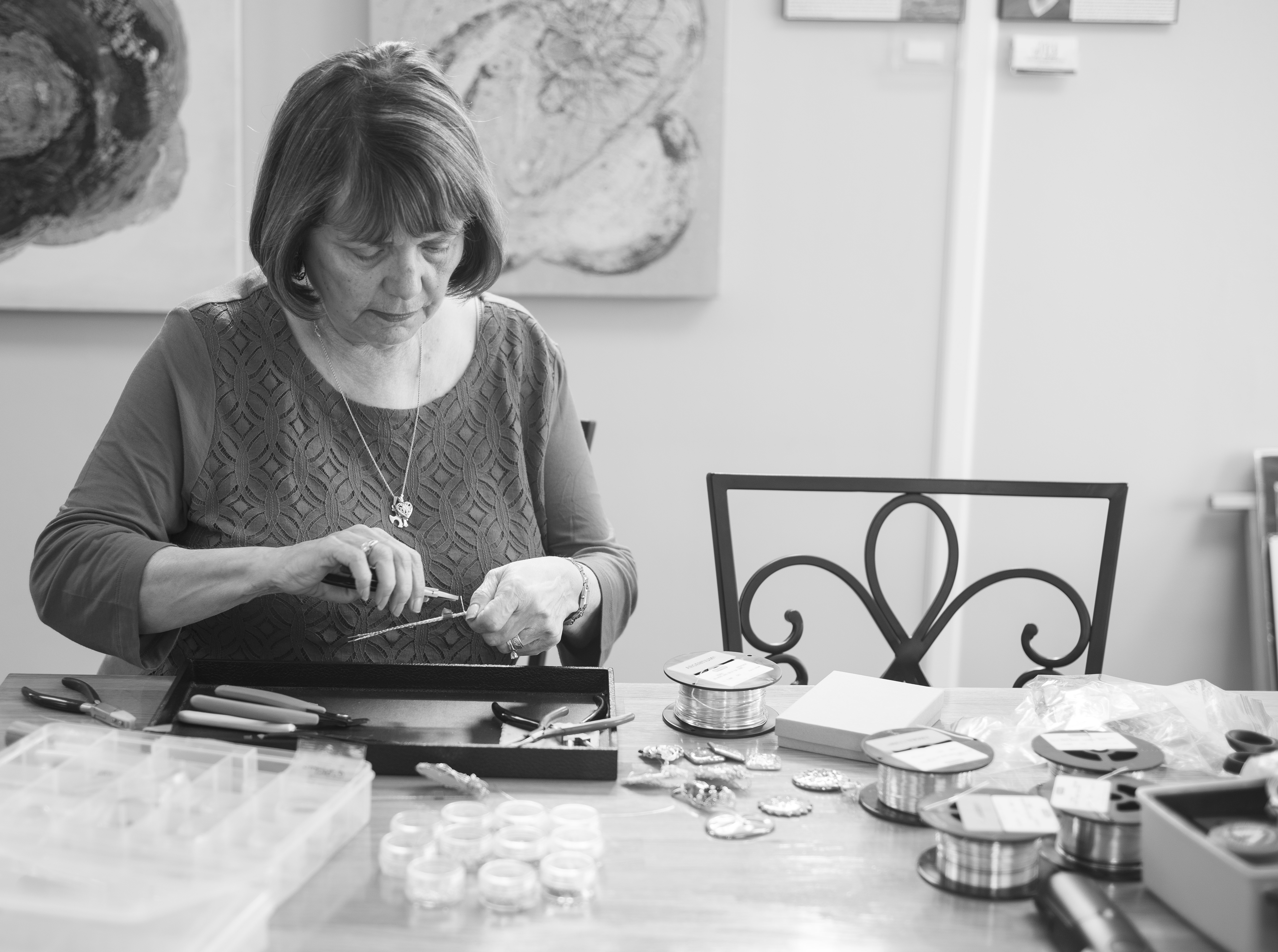 TERMS AND CONDITIONS
Because our jewelry is individually handcrafted, it is important to answer any of your questions/concerns up front. Please do not hesitate to contact us directly before you make your purchase. Thank you.
The pictures that you see in the shop are taken using a photo booth. The lighting is as natural as it can be. Many of the porcelain pieces are coated in mother of pearl and because of that they reflect varying colors. Please be aware that this can affect what you see. Also be aware that your screen will see things differently than mine. We work with a base color pallet but when mixing colors together new colors evolve. If you are concerned about coloring, please let us know before you purchase the piece and we will take several additional pictures and forward them to you. NO ITEM CAN BE RETURNED JUST BECAUSE THE COLOR ISN'T EXACTLY WHAT YOU EXPECTED. Thank you for understanding.
CUSTOM ORDERS
We do take custom orders. Time involved in processing evolves around several things.
If ordering a piece with a porcelain focal, do we have that cab in our inventory or do we have to create it. If it is in our inventory, the next question is whether I have it in stock here or does it have to be shipped by my coworker. The time involved varies. We can discuss all of this prior to placing your order.
A wire-wrapped piece takes approximately two business days to complete and ship if I have the wire in stock. If it has to be ordered, it can take up to two weeks based on wire delivery.
Wire-wrapped cuff bracelets take two business days to complete and ship if I have the wire in stock. If it has to be ordered, it can take up to two weeks based on wire delivery.
Other custom requests will be discussed prior to order.
And, of course, orders will be processed in the order they are received.
RETURNS AND EXCHANGES
Our goal is to sell you a handcrafted piece of jewelry art that you will love wearing. Each piece is individually created. Once again, please ask questions, express any concerns, etc. before you make your purchase. Should your item arrive damaged, PLEASE contact us immediately. We want you to be completely satisfied.
We will accept returns and exchanges under the following circumstances:
The item is damaged, i.e. the wire wrapping is loose, the porcelain is cracked, the beading is flawed, the clasps are coming off, some other flaw in the craftsmanship. Please note that a picture of the item will be taken prior to shipping so that it can be compared with your concern.
The item was bought as a gift and the person receiving the gift would prefer a different design or color.
The order is incorrect in any way. Getting it right is our job.
Pre-approval is required on all returns, refunds, or exchanges. We must be contacted within 7 days of your receipt of the item. Please do not return the item before we have discussed all options. If you do, you may not receive a full refund.
Return shipping is at your expense. We will NOT pay for return shipping.
Once the item is question has been returned to us, we will proceed with the terms and process as agreed upon.
Please note:
Custom orders are non-refundable. We will have thoroughly discussed the order during its creation process and pictures were provided upon completion. The order was shipped with your approval.
Earrings: For health reasons, we cannot restock earrings. Therefore, earrings are nonrefundable and nonexchangeable.
PAYMENT
Goimagine and Broken & Renewed Glass Art uses both PayPal and Stripe to process payments. Both keep your payment information secure and we never receive your credit card information.
Orders will not be processed until payment has cleared. Orders will be cancelled if payment has not cleared within the items processing time plus 2 business days.
We do not offer any payment plans.
The Goimagine platform and Broken & Renewed Glass Art accept all major debit and credit cards.
If you are having any issues at checkout, please feel free to contact us or the Goimagine Team.
SHIPPING
Purchase of items listed for sale on the site will be processed immediately and shipped within two business days.
Custom orders will be shipped based on time involved to create the item. This will be explained at the time of the order as the timing can vary.
All items will be shipped USPS either First Class or Priority Mail. These methods are free to the purchaser. If you want a different method, we can discuss this at the time you place your order.
Because we use First Class and Priority Mail, tracking of your package is included.
In all instances, it is the purchaser's responsibility to make sure that we have the correct mailing information. We will not be responsible for incorrect mailing information.
SHIPPING TO SOMEONE OTHER THAN PURCHASER
If you want your purchase shipped to an address other than yours, please make sure to double-check that the shipping information is included in your order and that it is correct. We will not be responsible for incorrect shipping information.